High School Musical Reunion Video Will Leave You Nostalgic
So much has happened since the first High School Musical movie premiered on Disney Channel. What you may have forgotten is that the movie aired for first time over 11 years ago. If you don't recall what life was like 11 years ago, delete Snapchat, delete Instagram, delete Twitter, and throw away your smart phone. Wow, time sure has passed but let's see how the High School Musical stars have fared during this time.
Chad and Taylor
In the first High School Musical movie, Chad and Taylor plotted to split Troy and Gabriella. You'll find out if their plan ever worked out below. Aside from the couple going to prom together, it wasn't clear if Chad and Taylor were going to stay together after high school.
In real life, Corbin Bleu married a Canadian actress, Sasha Clements, and Monique Coleman (the actress who played Taylor) married Walter Jordan, a man whose career remains a mystery. Corbin also competed on Dancing With the Stars and made it to the final round (we all knew his double dutch skills from Jump In would translate over). Monique Coleman (the actress who played Taylor) appeared on Dancing With the Stars too and ended up earning 4th place. If the pair's marriages somehow fall apart in the future, we know that Corbin and Monique can reunite and be the dancing power couple we all want to see!
Troy and Gabriella
Everyone rooted for Zac Efron and Vanessa Hudgens when they started dating in real life. While long distance no longer seemed to be an issue in High School Musical 3 when Troy chose Berkeley and Gabriella chose Stanford, the real world created distance between Zac and Vanessa. They both had their careers to work on and their movie schedules forced them apart.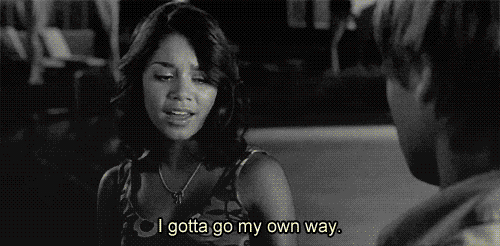 Post-split, Zac has done well for himself as he's cemented his name as one of Hollywood's hunkiest stars. He was able to break away from his Disney pretty-boy image, and he is taking on roles such as frat bros and former Olympic athletes. On the other hand, Vanessa hasn't been able to match Zac's commercial success. She most recently starred in the show Powerless as the main character, Emily Locke, but the series was pulled from NBC after 9 episodes.
Ryan and Sharpay
If you were in a musical competition, the last thing you'd want is to face opponents like Ryan and Sharpay. Scratch that–maybe Ryan is okay, but Sharpay could try to steal your partner by wooing him with her fabulous lifestyle. However here's a sigh of relief, you can bet on your partner finding their way back to you if you see them running and jumping around a golf course.
After the High School Musical franchise ended, we learned a lot of things that were never explicitly stated in the movie. For example, one of the writers, David Simpatico, revealed that Ryan is gay but since sexual orientation is a controversial topic for children and teenagers, the writers and director chose to keep Ryan as a "coded" gay character. Aside from his role as Ryan, Lucas Grabeel has voiced several animated show characters and he also had a leading role on the show Switched at Birth. Ashley Tisdale has had her fair share of success too! She continues to be on television shows and movies, but she also started her own clothing line and has recently gotten in touch with her music side again. This is showcased below in a video of Ashley and Lucas doing their own High School Musical reunion, and it will leave you longing for the days without Snapchat, Instagram, Twitter, and smartphones.
Be sure to SHARE with your friends!